MaximMart Microfiber Products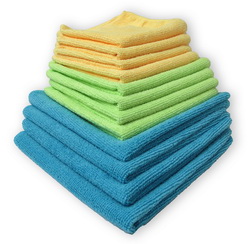 Microfiber cleaning cloths and towels
MaximMart is a distributor of microfiber cloths, microfiber towels and microfiber mops for commercial/household cleaning and auto detailing.
For cleaning and dusting, microfiber cloths are truly exeptional:
- Cleans and polishes at the same time
- Fiber structure allows chemical-free GREEN cleaning
- Absorbs 5X its weight and washable up to 500 times
- Microfiber cloths are hypoallergenic and antibacterial
Microfibers are tiny fibers that have been slit into millions of finer fibers that are no thicker than one hundredth of a human hair. Microfiber consists of two basic fibers, Polyester and Polyamide. Each of them has a unique feature. Polyester is a great absorbent, which allows each microfiber towel to hold 5 times it's weight. The molecular composition of the polyamides make it highly lipophylic. This means oily substances easily adhere to the microfiber surfaces. Oil stays on the cloth until it is laundered .The microfiber fabric contains hundreds of thousands of microscopic threads per square inch that attract grease, dirt and grime. Because of their high static ability microfibers are able to penetrate into microscopic pores of any surface.